Other Links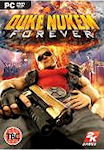 Due on 06 May 2011
The game is huge. With hours and hours of over-the-top single player action, and a range of bodacious multiplayer modes like Duke Match, Capture the Babe and Hail to the King, players can rest assured knowing that the fun will last.


Out Now
Engineer Isaac Clarke returns for another blood-curdling adventure in the sequel to the critically acclaimed Dead Space. After waking from a coma on a massive space city known as "The Sprawl", the lone survivor of a horrific alien infestation finds himself confronting a catastrophic new nightmare.


Out Now
Left 4 Dead 2 is the sequel to the best-selling and critically-acclaimed co-operative multiplayer smash from Valve. The title adds melee combat to the award-winning L4D style of play, with items such as a chainsaw, frying pan, axe, baseball bat, and more. The setting is at roughly the same time as the original - just after the outbreak that turned most of the population into various zombie mutants.





Crysis 2: Limited Edition - Due for release on 25 March 2011

The world has been ravaged by a series of climatic disasters and society is on the verge of total breakdown. Now the aliens have returned, with a full invasion force bent on nothing less than the total annihilation of mankind, starting by trying to rip the heart out of Earth's most iconic city.
In New York, terrifying alien invaders stalk the streets and a nightmare plague strikes down the city's myriad inhabitants with brutal epidemic speed. The city's systems are in chaos, its streets and skyline are smashed and in flaming ruin. This is New York City like you've never seen it before.

F.E.A.R. 3 - Due for release on 20 May 2011

Eight months ago, Point Man and his F.E.A.R. squad were tapped to stop an unknown man who had commandeered a secret battalion of telepathically-controlled supersoldiers at the Armacham research facility in the Northwestern US city of Fairport. During the mission Point Man learned that the man wasn't working alone.
In fact, the very people Point Man was working to destroy were his telepathic, cannibalistic brother, Paxton Fettel, and his tortured and psychically powerful mother, Alma Wade—products of Armacham's perverse paranormal experiments.
This looks set the better the other two and they were very good, mine is on back order!

Red Faction: Armageddon - Due for release on 03 June 2011

Half a century after the Red Faction resistance and their Marauder allies freed Mars from the brutal Earth Defense Force, harmony on Mars is again threatened but this time by a lethal force shrouded in mystery.
When the massive Terraformer that supplies Mars with its Earth-like air and weather is destroyed, the atmosphere turns to chaos, super-tornados and lightning storms engulf the planet. To survive, the Colonists flee to the underground mines and build a network of habitable caves.
Five years later, Darius Mason, grandson of Martian Revolution heroes Alec Mason and Samanya, runs a lucrative business from Bastion, underground hub of Colonist activity. Mining, scavenging, mercenary work--if the job is dangerous, Darius is your man. Few sane people now venture to the ravaged surface, aside from contractors like Darius and the smugglers who run goods between the settlements.

Deus Ex 3: Human Revolution - Due for release on 26 August 2011

Deus Ex: Human Revolution is the return to one of the most critically-acclaimed video game franchises of all time, telling the story of Adam Jensen, a man cybernetically augmented against his choice who finds himself in the middle of a global conspiracy to which he holds the key.
By offering players the chance to play the game in multiple and vastly different ways, Deus Ex: Human Revolution challenges the foundations of gaming and provides an immersive experience where every choice has a lasting consequence.

Who we are is but a stepping stone to what we can become.

Call Of Duty: Black Ops - Out Now

Call Of Duty: Black Ops, the newest installment in the biggest action series of all-time and follow-up to last year's blockbuster Modern Warfare 2.
Filled with heart-racing action, Call Of Duty: Black Ops will take you behind enemy lines as a member of an elite special forces unit enganging in covert warfare, classified operations, and explosive conflicts across the globe.
With access to exclusive weaponry and equipment, your actions will tip the balance during the most dangerous time period mankind has ever known.
An epic campaign and story that takes you to a variety of locations and conflicts all over the world where you will play as an elite Black Ops soldier in deniable operations where if you are caught, captured, or killed, your country will disavow all knowledge of your existence.